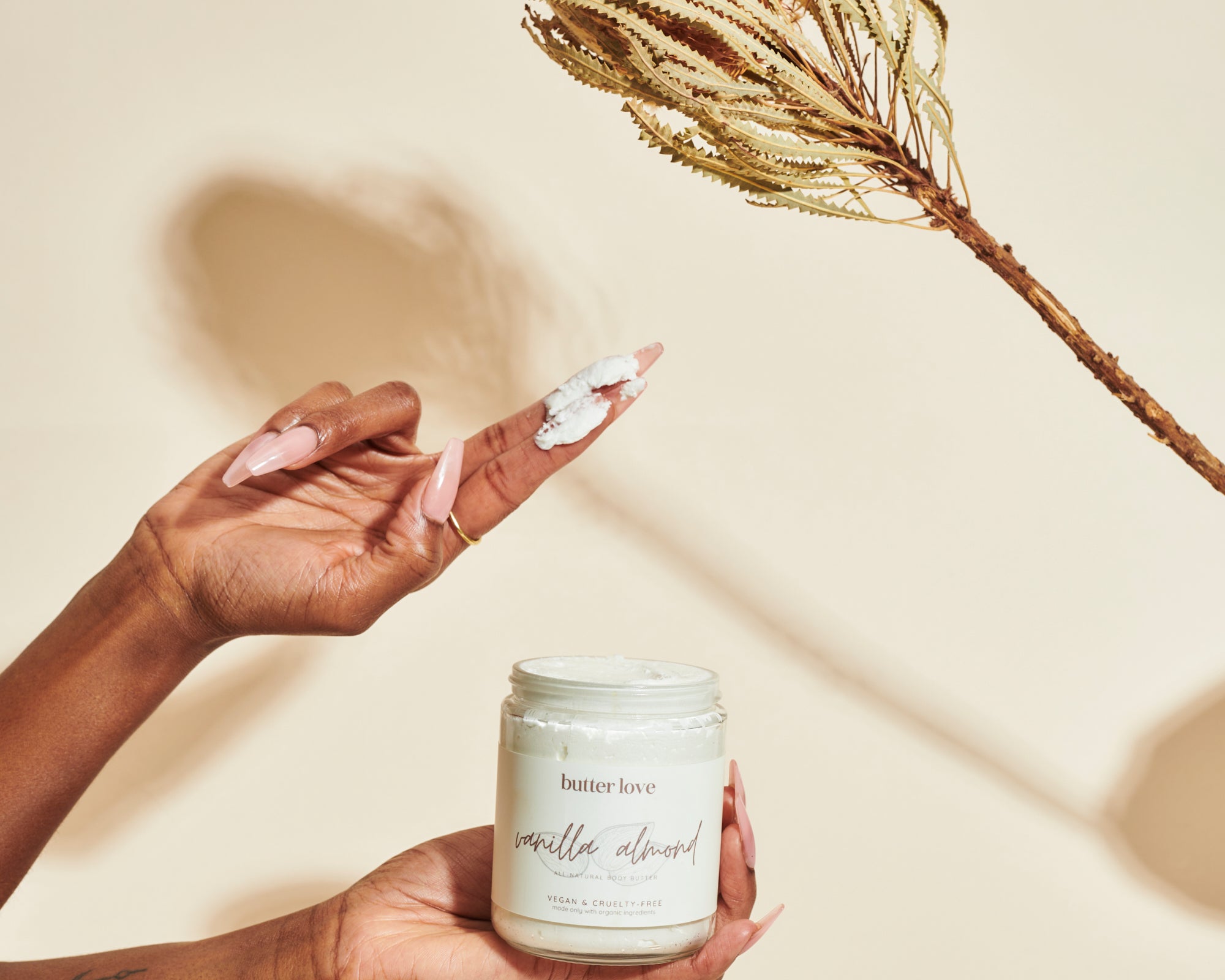 Summer Weather Alert!
Our body butters are heat-sensitive and have a melting point of 83 - 88 degrees. Avoid leaving packages in mailboxes or outside in warm weather. If melting occurs, give it a quick visit to the fridge for 30 minutes. It may change texture, but trust us, it's still buttery goodness!
Description

Do you ever feel like your skin is begging for moisture?

That no matter how much lotion you put on, it's never enough? Bring the power of nature to your skin with this creamy, all-over body moisturizer. With a wonderful nutty scent, our Vanilla Almond Body Butter will make you feel like you're being enveloped in a warm hug.

It's more than just a lotion, it's an experience. Our vanilla almond body butter is a true game-changer. Composed of a blend of organic shea butter, organic coconut oil, and a heavenly vanilla almond fragrance, our luxurious moisturizing cream will leave your skin feeling smooth and soft. 

 

 

 

 
How To Use

Rub a small amount on the desired area (particularly on drier areas). Massage butter until dissolved. For best results, use after a relaxing shower or bath when the skin is moist. For external use only.
Ingredients

Organic Shea Butter

Organic Coconut Oil

Organic Sweet Almond Oil

Fragrance
Product Dimensions
Key Benefits

Rich Moisturizer: A rich, creamy, and rich moisturizing body butter that can be used as a leave-in, overnight, or a daily treatment.

-Shea Butter: Unrefined organic Shea Butter is a natural, highly effective moisturizer that penetrates deep into the skin to provide long-lasting moisture.

-Nourishes: Coconut Oil is a rich source of Vitamin E, an antioxidant that repairs damaged skin.

-Softens: Our Shea Butter and Coconut Oil will soften your skin and smooth it out. Plus, makes skin look healthy and glowing

Organic Sweet Almond Oil: Almond oil is rich in Vitamin E which conditions and softens skin
Amazing! Every product I've gotten.. just makes my skin feel like buttah! My new skin products!
Love the body butter!
I love the scent and feel of the vanilla almond body butter! It's a soft, pretty scent and the product is so moisturizing.
Love it
I love this almond butter.
It was a gift but I'm sure it is great.
Wonderful
Like all their body it makes my skin feel so soft, and the scent is so wonderful.